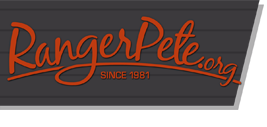 Ranger PeteTM Attic of Park Memorabilia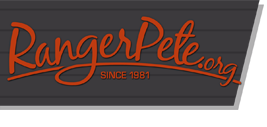 Ranger PeteTM Attic of Park Memorabilia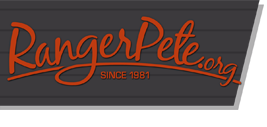 Ranger PeteTM Attic of Park Memorabilia
Since it's conception as "America's First National Park," numerous items of history and beauty have been created to celebrate Yellowstone's wonders: Unique posters, rare photos, commemorative plates and historical artifacts. Ranger Pete's® Attic is the overflow of unique treasures that are available for purchase. All items are guaranteed authentic and available to on a "first come- first serve" basis.
If you are interested in purchasing an item or have a question about an item, please fill out this form.
1960's ORIGINAL Vintage Go Greyhound Travel Poster Yellowstone Litho
Description: Original (NOT a modern reproduction) Vintage poster advertising Greyhound Service to Yellowstone National Park with bear scene.
Measurements & Condition: Poster size: 11 x 14 inches. Condition: Small crease in edge, otherwise great condition, very colorful. Poster safely stored and not on display.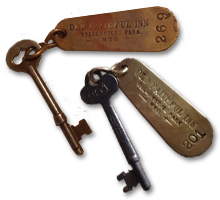 Vintage Brass Fob/Steel Keys
From the Old Faithful Inn YNP
Measurements & Condition: Early 1900's. Fob measures 2 3/4" and key measures 2 13/16". Very rare collectible.
Set of three F. Jay Haynes Glass Lantern Slides
Slide Number 67, Upper Falls of the Yellowstone
Slide Number 78, Golden Gate Canyon & Viaduct
Slide Number 46, Giant Geyser
Measurements & Condition: Medium tonal image, hand applied color, original tapes very good, photographers label with penned title. Size: 3.25" x 4". Date: Early 1900's.

1979 New York Metropolitan Museum of Modern Art Yellowstone Poster with Ansel Adams Signature
Description: First edition poster from the New York Metropolitan Museum of Modern Art. Designed in 1979 by Patrick Cunningham to commemorate Ansel Adams' photography exhibit at the museum. The photos were taken between 1941-1950 by Ansel Adams. The curator of the Ansel Adams Gallery in Yosemite, Evan Russell, has previously authenticated other Ansel Adams signed posters. Signature on this poster is 100% authentic.
Measurements & Condition: Size: 36" x 23" poster featuring (4) 8" x 11" photo panels of Old Faithful geyser in Yellowstone National Park. Condition: Excellent.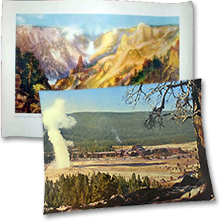 Union Pacific Yellowstone Poster
Description: Union Pacific Railroad Company Yellowstone Park Travel Poster featuring the eruption of Old Faithful.
Measurements & Condition: Size: 29.5" x 23.5". Image dimensions: 24" x 14 1/2". Heavy card-stock material with some smudge marks and slight edge wear, but the image itself is clean and crisp.
Northern Pacific Yellowstone Poster
Description: Northern Pacific Railroad Company Poster featuring the famous painting of Thomas Moran of the Grand Canyon of Yellowstone National Park.
Measurements & Condition: Size: 28" x 20". Image dimensions: 24" x 14 1/2". Condition: Poster has been rolled up for many years. The image is not faded. Small (1") tear in the middle of the right and left margin, but neither affects the image,some rough spots on the corners, but no pin holes.
1924 Original Signed Yellowstone/Department of Interior Letter
By Horace M. Albright, Superintendent of Yellowstone
Description: Original correspondence on U.S. Department of Interior letterhead from Horace Albright to M.P. Skinner, Yellowstone National Park's first park naturalist, champion conversationalist and active speaker in the 20-30's. Horace M. Albright was superintendent of Yellowstone and Director of the National Park Services. Reproduction photo (above the letter) shows Mr. Albright having lunch with Yellowstone Park bears. This is a piece of park history.
Measurements & Condition: Frame size: 11 x 18 inches (letter approx. 8.5 x 11 inches, photo 3 x 5 inches). Condition: Excellent. Letter is professionally framed and is sandwiched between two sheets of glass with no adhesive. Fold creases from letter being mailed and stored are noticeable.
"John Denver Sings" Rare Vinyl Albums, 1966
Description: (Album A) In 1966, Denver made a self-produced demo recording of some of the songs he played at his concerts. Backing him on the demo was Paul Prestopino and Bob Hefferan, both members of the Chad Mitchell Trio with John. Denver had a limited number of copies made and gave them out as presents for Christmas to his friends. This one was given to Bob Hefferan's brother Greg. John signed the album "Greg, dirty 'ole men forever and all that stuff. I am proud to have you for a friend. John Denver". (see photo)
Condition: Album plays well, but the cover is worn on the spines. (see photo)
Description: (Album C) 'John Denver Sings' album. The back of the album contains a personal inscription complete with Denver's signature: "Jean, Thank you for your help and friendship. You are one of the three nicest things in Milt's office. Sincerely, John Denver.". (see photo) Jean was Milt Okin's sister-in-law who helped organize and manage Cherry Lane Music during the early years. The Album came out of her (Jean's) estate and was unknowingly sold in a box full of old record albums. The buyer found the treasured album and sold it online. It came back up for sale in June 2018 and was purchased by Ranger Pete.
Condition: Record in good condition and plays with no scratches.
BUCK LAKE, YELLOWSTONE NATIONAL PARK
PHOTOGRAPH © RANGERPETE.ORG