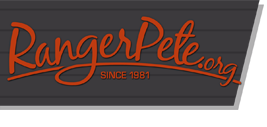 More Books from the Ranger PeteTM Library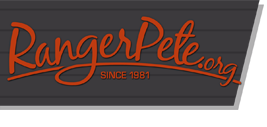 More Books from the Ranger PeteTM Library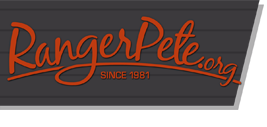 More Books from the Ranger PeteTM Library
The items listed are from Ranger Pete's Library and represent only what he has read... There are many more to be added! Ranger Pete's favorites are indicated with
RED

titles.
Myths and Legends of Yellowstone: The True Stories behind Historyu2019s Mysteries
By Ednor Therriault
The world's first designated national park, Yellowstone is famous for its steaming geysers, bubbling mud pots, and wildlife-caused traffic jams. But few people may know about the many Native American tribes that visited the area long before John Colter "discovered" it, how one man nearly decimated the park's bison population, or the strange music that emanates from Yellowstone Lake. Each episode included in this book explores unusual phenomena, strange events, and mysteries in Yellowstone National Park's history. From rumors of ghosts in the iconic Old Faithful Inn to Bigfoot sightings throughout the park, Myths and Legends of Yellowstone makes history fun and pulls back the curtain on some of this national treasure's most fascinating and compelling stories. 216 pages. PAPERBACK.
Guardians of Yellowstone: An Intimate Look at the Challenges of Protecting America's Foremost Wilderness Park
By Dan R. Sholly & Steven M. Newman
Writing with freelancer Newman, Sholly, chief ranger at Yellowstone, presents a dramatic picture of the 2.2-million-acre park, showing how hundreds of rangers, scientists, maintenance workers and volunteers care for the wildlife, serve the public and contend with continual emergencies. Vivid descriptions of the devastating forest fires of 1988 figure prominently here, and Sholly justifies the way in which the park rangers handled them, arguing that fires rejuvenate the wilderness and may, in fact, be far less detrimental to the health of the park than the pressures exerted by special interest groups and neighboring landowners. Sholly is obviously a man with a mission to protect Yellowstone in all its grandeur, and this account of how he carries out his work, undaunted by controversy and criticism of his administration, makes wonderful reading. Photos not seen by PW. Hardcover. 317 pages. 6.5 x 1.2 x 9.8 inches.
Images of America: Fort Yellowstone
By Elizabeth A. Watry & Lee Whittlese
On August 17, 1886, Capt. Moses Harris and the troops of Company M rode into Yellowstone to take over guardianship of America s first national park. Receiving orders thereupon that the company was staying indefinitely, Captain Harris ordered the construction of Camp Sheridan. Seeing no end in sight for this temporary duty, the US War Department established Fort Yellowstone in 1891. For 32 years, ceremonial splendor of the US Army filled this era of Yellowstone with booming cannons at sunrise and sunset, crackling rifle-range practices, flashing saber drills, exacting military maneuvers, and dashing dress parades led by the regimental band. With the creation of the National Park Service in 1916, the Army began a two-year administrative transition and formally abandoned Fort Yellowstone in October 1918. Paperback. 128 pages.
Wrecked in Yellowstone
By Mike Stark
On an island in the middle of Yellowstone Lake in Yellowstone National Park, there's a wrecked ship—the last dashed hopes of a man determined to find his way in the early profiteering days of the nation's first national park. Thoroughly researched and superbly written by journalist Mike Stark, Wrecked in Yellowstone is the first portrait of one of Yellowstone's most infamous characters and his place in the tumultuous early years of the park. It is a true story of folly, obsession, ruthless competition, and a man overcome by the storms of his own creation. Softcover. 199 pages. 5.5" X 8.5"
Prophets and Moguls, Rangers and Rogues, Bison and Bears
By Heather Hansen
Foreword by National Park Service Director John B. Jarvis. The engaging, accessible tale of the history and characters of the National Park Service. The result of extensive research, dozens of interviews, and countless visit to parks across the country, this story shows us how our natural, cultural, and historic resources—and the NPS themselves—need us just as much as we need them. Softcover. 350 pages. 7" x 8.5"
Nothing to Tell: Extraordinary Stories of Montana Ranch Women
By Donna Gray
Sitting at the kitchen tables of twelve women in their eighties who were born in or immigrated to Montana in the late nineteenth or early twentieth century, between 1982 and 1988 oral historian Donna Gray conducted interviews that reveal a rich heritage. In retelling their life stories, Gray steps aside and allows theses women with supposedly "nothing to tell" to speak for themselves. Pride, nostalgia, and triumph fill a dozen hearts as they realize how remarkable their lives have been and wonder how they did it all.
Some of these women grew up in Montana in one-bedroom houses; others traveled in covered wagons before finding a home and falling in love with Montana. These raw accounts bring to life the childhood memories and adulthood experiences of ranch wives who were not afraid to milk a cow or bake in a wooden stove. From raising poultry to raising a family, these women knew the meaning of hard work. Several faced the hardships of family illness, poverty, and early widowhood. Through it all, they were known for their good sense of humor and strong sense of self. Paperback
The Concise Visitor's Guide to Yellowstone
By Matt Bolton
Demystifying weather, wildlife populations, hundreds of square miles of backcountry, and park accommodations that are often sold out a year in advance, "The Concise Visitor's Guide to Yellowstone" by author and national park enthusiast Matt Bolton is the smartest tool to ensure your trip to America's first national park is unforgettable. He satisfies the vital needs of where to stay and where to eat, and answers general questions, like how to get to Yellowstone, for first-time visitors. Whether you have a single afternoon or an entire month, Bolton walks readers through how to make the most of their time at Yellowstone and doesn't just offer what he thinks are the best trails and tours but goes the extra mile to explain why. 2010. Paperback
Yellowstone Ranger Stories from a life spent with bears, backcountry, horses, and mules, from Yosemite to Yellowstone
By Jerry Mernin
Jerry Mernin's distinguished career in the National Park Service spanned four decades, five national parks, and a remarkable 32-year stay in Yellowstone, the park he loved and never left. In his long-awaited memoir, Mernin takes readers behind the scenes to learn firsthand what it's like to be a great park ranger. Along the way he shares a lifetime of exciting adventures, including dangerous rescues, remote backcountry patrols, and multiple heart-pounding encounters with grizzly bears. Thoroughly entertaining, this book also provides a valuable inside look at park operations from law enforcement to bear management. Paperback.
Yellowstone Treasures : The Traveler's Companion to the National Park
By Janet Chapple
This comprehensive guidebook provides mile-by-mile road logs, geyser walks, out-of-the-way hikes, geological explanations, and a field guide to plants and animals. Many travel tips, 200+ historic and modern photos, 37 color maps. Paperback. 400 pages.
Worthwhile Places : Correspondence of John D. Rockefeller, Jr. and Horace M. Albright
Edited By Joseph W. Ernst
Looks at the history of some of our treasured national parks. This book illuminates a public-private partnership that helped to shape our national park system., Worthwhile Places is a fascinating inside look at the history of some of our most treasured national parks. The book illuminates a remarkable public-private partnership that helped to shape our national park system. The close association and warm and lasting friendship between John D. Rockefeller, Jr. and Horace M. Albright is documented through 211 letters covering a 36-year period. Paperback.
Creating the National Park Service : The Missing Years
By Horace M. Albright and Marian Albright Schenck
Two men played a crucial role in the creation and early history of the National Park Service: Stephen T. Mather, a public relations genius of sweeping vision, and Horace M. Albright, an able lawyer and administrator who helped transform that vision into reality. In Creating the National Park Service, Albright and his daughter, Marian Albright Schenck, reveal the previously untold story of the critical "missing years" in the history of the service. During this period, 1917 and 1918, Mather's problems with manic depression were kept hidden from public view, and Albright, his able and devoted assistant, served as acting director and assumed Mather's responsibilities. Albright played a decisive part in the passage of the National Park Service Organic Act of 1916; the formulation of principles and policies for management of the parks; the defense of the parks against exploitation by ranchers, lumber companies, and mining interests during World War I; and other issues crucial to the future of the fledgling park system. Paperback. Pages: 326.
Gateway to Yellowstone: The Raucous Town of Cinnabar on the Montana Frontier
By Lee Whittlesey
By 1883 when the rail lines of the Northern Pacific reached the tiny town of Cinnabar, Montana Territory, newspaper and magazine stories of the wonders to be found in Yellowstone National Park had been firing the imaginations of eager potential visitors around the world for a decade. Once the railroad completed that critical bit of their route, the world was poised to actually see the magic of Yellowstone, and the prospect of a trip was no longer just exciting—it was a possibility. It seemed like everyone who could afford the ticket—from middle class residents of New York City to Army Generals William Tecumseh Sherman and Philip Sheridan to President Chester A. Arthur—wanted to ride the train to see Yellowstone . Their jumping off point for their journey into "Wonderland" was the town envisioned by Hugo Hoppe, a raucous Wild West town poised for greatness as the Gateway to all of Yellowstone's offerings. The town of Cinnabar, Montana, no longer exists, but when it did, it served as the immediate railroad gateway for a generation of visitors to Yellowstone National Park. 2015. 336 pages. 5.9" x 8.9"
The 10 Best of Everything: National Parks
By National Geographic
Showcasing America's best natural parks, this guide provides hundreds of ideas for travelers planning - or dreaming about - trip to one of the countries iconic national parks. Ten-best lists, insider anecdotes, and advice from park rangers cover national parks, monuments, battlefields, and trails. Organized by region, season, theme or occasion, this book will inspire a lifetime of vacation ideas. 2011. Softcover. 478 pages. 8" x 8"
Ho! For Wonderland: Traveler's Accounts of Yellowstone, 1872-1914
Edited and annotated by Lee H. Whittlesey and Elizabeth A. Watry
This book is a collection of stories from Yellowstone's early days as the world's first national park. Read about long, dusty trails, stays in primitive hotels and tent camps, and more. Taken from historical archives, these 19 tales offer engaging perspective of the stagecoach days. 2009. Hardcover. 336 pages. 6.25" x 9.25"
To Yellowstone Park and Back
By Irene Angus
In the summer of 1929, three young ladies set out on a 4200-mile joumey from Michigan to Yellowstone. They deal with worrisome flat tires, interesting camp sites, hot weather, and incredible landscapes. The author uses her skill as a science teacher to fill this joumal with interesting facts, along with old maps and photography, while chronicling events of 1929 America. 2006. 128 pages. Softcover. 6" x 9"
The Yellowstone National Park Cookbook
By Durrae Johanek
Great food, stories, and history make a memorable feast in The Yellowstone National Park Cookbook. Treat yourself to 125 unique recipes collected from more than a dozen park employees. Enjoy reading about Yellowstone while preparing recipes from personalities ranging from Yellowstone Superintendent Suzanne Lewis to Yellowstone Association employee Carolyn Wallen. From Mudpot Stroganoff to Mama Bear's Lasagna each dish has its own flavor of Yellowstone. 2007. 176 pages. Softcover. 8 x 7"
Oh, Ranger! True Stories from Our National Parks
By Mark J. Saferstein
Anyone who has enjoyed rousing campfire talk or evening program knows that park rangers rank among the best storytellers. In this charming book, you can read more than three dozen stories of adventure, surprise, and humor by rangers from parks around the country. One of Yellowstone's own rangers-the recently retired John Varley-jokes about the "jargon-gene" he says infects scientists, then takes on the daunting task of explaining the polymerase chain reaction. Judge his success for yourself! The entertaining collection ends with two thought-provoking stories by rangers whose parks were the center of altacks on September 11,2001.2007.270 pages. Soft cover. 7 3/4"x 9 1/4"
Yellowstone by Train: A History of Rail Travel to America's First National Park
By Thomton Waite
Imagine departing the train in the shadow of the Roosevelt Memorial Arch, or disembarking within walking distance of the West Entrance. Yellowstone's railroad era comes alive with historic photographs, postcards, and memorabilia, while you read the fascinating story of railroad competition. You'll also find out what train travelers experienced on their way to "Wonderland." Includes a chronology, footnotes, and references. 2006. 168 pages. Soft cover. 8-1/2 x 11"
Yellowstone Trails: A Hiking Guide
By Mark and Joy Marschall
For 30 years the Yellowstone Association has published the official guide to Yellowstone's backcountry trails. This guide is written by Mark and Joy Marschall, whose work as park rangers has given them extensive knowlege of Yellowstone's back country. In addition to a compehensive general guide to Yellowstone's backcountry, this guide offers descriptions and mileage for more than 100 trails and 45 day hikes. This guide also offers topographical maps, 3D views of major peaks, and trail elevation profiles. Anyone planning a back country trip to Yellowstone must be sure to have one of these guides. 2008. 204 pages. Paper-back. Spiral Bound.
Hey Ranger! True Tales of Humor and Misadventure from America's National Parks
By Jim Burnett
You'll laugh your way through these excellent stories told by a ranger who participated in or witnessed many of them. He introduces the parks before launching into the tales, offers funny commentary on other events, and concludes the book with sage advice for anyone venturing onto trails or waterways in our national parks. 2005. Soft cover. 227 pages. 6 x 9"
Yellowstone Trivia
By Janet Spencer
Sure to please anyone in your family, from puzzle-crazy children to adults interested in fascinating details about Yellowstone National Park. Includes trivia and games about the park's geography, geology, history, and wildlife-even fatalities in the park. Did you know that car crashes kill more visitors than bears, hot springs, or drowning? 2006. Soft cover. 116 pages. 5-1/2 x 8-1/2"
Do (Not) Feed the Bears: The Fitful History of Wildlife and Tourists in Yellowstone
By Alice Wondrak Biel
Meet Jesse James, the bear who held up traffic, in this captivating history of bears, visitors, and management of both in the world's first national park. Read the memos and leiters, scientific summaries, and media outcry that lasted the 20th century as superintendents, managers, and scientists worked to return Yellowstone's bears from the brink of tameness back to their natural foods and wild ways. 2006. Soft cover. 186 pages. 6 x 9"
Yellowstone Ghost Stories: Spooky Tales from the World's First National Park
By Shellie Larios, with a foreword by Lee Whittlesey
With fine writing and story-telling, the author relates spooky stories old and new. She begins each account by skillfully setting the historic context, and then moves into the ghostly scenes quickly and spookily. You may never walk through geyser steam again without looking over your shoulder. 2006. Soft cover. 109 pages. 5-1/2" x 8-1/2"
Yellowstone Place Names
By Lee H. Whittlesey
Explore the origins of intriguing place names and learn the truth behind long-held assurnptions. Find out who gave their name to Isa Lake, what "surprise" is held inside Surprise Pool, and why the Bechler River might have been more properly named the Russell River. Author Paul Schullery believes that "Whittlesey is the premier authority on Yellowstone place narnes and it's the best book ever on the subject, a standard reference work of essential worth to both scholars and visitors." Sold out for years, Yellowstone Place Names returns in a new edition, with more names, facts, and historical photographs. 2006. Soft cover. 290 pages. 8-1/4" x 10-3/4"
The Comfort of Autumn
By Tom Murphy
Bring Yellowstone's autumn directly into the comfort of your own home and imagination with this book of words and photographs by Tom Murphy. His photos reveal details in Yellowstone's landscape and wildlife that only a seasoned photographer could capture, and his elegant, thoughtful text further illuminates this colorful season and its activity. 2005. Hardcover. 139 pages. 10 1/2" x12"
Searching For Yellowstone
By Paul Schullery
In his deeply personal yet sweeping history of Yellowstone, Schullery tells us that the place known from the start as "Wonderland" has always been the subject of pro- and anti-development forces and has always been seen through sometimes bitterly contrasting points of view. With the balance and grace borne of his training as a naturalist and historian, Schullery weaves a narrative through countless such arguments and leaves you wanting more. 2004. 5.5" x 8.25". 337 pages. Soft cover.
Yellowstone: The Official Guide to Touring America's First National Park
By the Yellowstone Association
Updated for 2009! An indispensable resource for Yellowstone visitors. Newly updated guidebook provides information to assist with all aspects of your trip, from reservations to road maps to recommended activities. The guide will explain Yellowstone's human and geologic history, providing information on the natural features with guidance on how to view the free-ranging wildlife and geothermal features safely. Along with a map of the entire park, the guide also includes an easy-to-use field guide section which contains color photos and descriptions of many of the park's most common mammals, plants, wildflowers and birds. 80 pages.
Old Faithful Inn: Crown Jewel of National Park Lodges
By Karen Wildung Reinhart and Jeff Henry
Just released! Writer Karen Wildung Reinhart, and nature photographer Jeff Henry, have compiled a lovely and complete history of the Old Faithful Inn. These topnotch local authors have thoroughly researched the Inn and will reveal the answers to history questions and long-wondered mysteries of the building. Complemented by beautiful photographs, this book is a memorable tribute to a building that has been an American icon since 1904. 2004. Hardcover. 143 pages.
The Yellowstone Story, Volume 1
By Aubrey Haines
Comprehensive in its scope and entertaining in its detail, these two volumes are vital reading for all visitors and historians interested in Yellowstone National Park. 408 pages.
The Yellowstone Story, Volume 2
By Aubrey Haines
Comprehensive in its scope and entertaining in its detail, these two volumes are vital reading for all visitors and historians interested in Yellowstone National Park. 568 pages.
It Happened In Yellowstone
By Erin H. Turner
Yellowstone has many wondrous tales to tell, and this book offers 24 fascinating stories from the archives of America's first national park From the wild adventures of early park visitors to the massive fires of 1988, It Happened in Yellowstone provides a quick tour through the history of this magnificent place. You'll marvel at one man's struggle to survive 37 days alone in Yellowstone, laugh at a little boy's pranks on unwary tourists, and trace the arduous reintroduction of wolves to the park. 2001. 96 pages. 6" x 9". Soft cover.
It Happened In Yellowstone, 2nd: Remarkable Events That Shaped History
By Erin H. Turner
This book offers an inside look at over 30 interesting and unusual episodes that shaped the history of Yellowstone Park. Read about the making of "Wonderland" over 600,000 years ago. Try to piece together the Great Stagecoach Robery of 1908. Discover why fishing at Fishing Bridge has been banned since 1973. 2012. Softcover. 117 pages. 6" x 9"
Lost in the Yellowstone: Truman Everts' Thirty-Seven Days of Peril
By Lee Whittlesey
This book contains Everts' original high-adventure chronicle of hardship and survival, newly augmented with biographical and background information. 62 pages.
The Inn At Old Faithful
By Susan Scofield
The Old Faithful Inn is a landmark in Yellowstone. This book contains old photographs and text that takes you through the winter of 1903-04 construction, with historical information and a walking tour of the building. 24 pages.
Death in Yellowstone (Accidents and Foolhardiness in the First National Park)
By Lee Whittlesey
Yellowstone's historical Archivist details 300 deaths, caused by everything from earthquakes and bear attacks to poison gas and lightning. 276 pages.
Yellowstone Resources and Issues Handbook 2011
Written by the National Park Service's Yellowstone Division of Interpretation
This book was originally a source of information for seasonal employees. Now available to the public, it answers many questions about the park and looks at the many issues the park faces, such as bison management and wolf restoration. Spiral bound. 2011. 198 pages.
National Parks Portfolio
By Sterling Yard
Yard spent the winter of 1915-1916 working on his first major publication for the project, the "National Parks Portfolio." By the spring of 1916, Yard's various articles and essays on the national parks had reached the American people, and support for a unified NPS was growing in Congress. Yard's "Portfolio" had been distributed to every member of Congress, and bills were moving actively forward in both Houses towards the creation of the NPS by early summer. In August of 1916, Yard toured Yosemite with Mather and other officials. When they finished the trip on August 26, Mather received a telegram telling him that President Woodrow Wilson had signed the bill creating the National Park Service, thanks, in no small part, to Yard's tireless work. Historical and collectible item.
Truthful Lies of Yellowstone Park & A Thousand Laughs
By Chas. Van Tassell
Fourth Edition, Copyright 1921, by Chas. Van Tassell, Bozeman, Montana Historical and collectible item.
Yellowstone National Park White Print Portfolio
Published by Haynes Inc. st. Paul Minnesota and Yellowstone Park, Wyoming (no date circa 1937), stiff paper covers/cord binding, oblong quarto (10.25 x 13.50 in.) 24 superb full color, full page plates approx. 11 x 14. Historical and collectible item.
Yellowstone Souvenir Book
With over 40 images Yellowstones most popular wonders this book makes a great souviner gift! Book measures 7 inches tall by 8 1/4 inches wide. Book features many of the parks thermal features waterfalls landmarks historical hotels and more!
BUCK LAKE, YELLOWSTONE NATIONAL PARK
PHOTOGRAPH © RANGERPETE.ORG
More great books are available through the park gift shops, the Yellowstone Forever Association resource centers, or their on-line shop. Or you can ask Ranger Pete... always am glad to help.