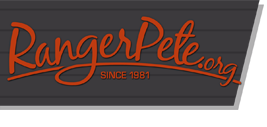 More Books from the Ranger PeteTM Library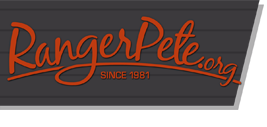 More Books from the Ranger PeteTM Library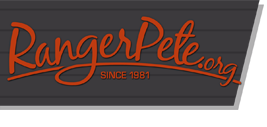 More Books from the Ranger PeteTM Library
The items listed are from Ranger Pete's Library and represent only what he has read... There are many more to be added! Ranger Pete's favorites are indicated with
RED

titles.
Repeating History: A Time in Yellowstone Novel
By M. M. Justus
In 1959, 20-year-old college dropout Chuck McManis strolls the geyser boardwalks in Yellowstone National Park when an earthquake plunges him eighty years back in time, into the middle of an Indian war. Into his personal past, too – his great-grandfather, his boyhood idol, but not a hero after all. Hapless Chuck needs instructions for sheer survival. Paperback. 346 pages. 0.7 x 5.9 x 8.9 inches
Yellowstone and Grand Teton National Parks (American Traveler)
By Marcus Schneck
Offers a spectacular look at the pristine landscapes of Yellowstone and Grand Teton National Parks. Hardcover. 0.5 x 9 x 11 inches
A Yellowstone Reader: The National Park in Folklore, Popular Fiction, and Verse
By Richard L Saunders
For those of us fortunate enough to have visited Yellowstone on childhood camping trips, it is a place strange and mysterious that lingers and tantalizes with memories of Old Faithful and bubbling mud pots, roaring waterfalls and secret hopes of spying a black bear or a bison; a real place that seems as though it could have been created in our dreams. A Yellowstone Reader collects an evocative sample of fictional literature about Yellowstone—the best or most notable expressions of the niche Yellowstone Park occupies in the human imagination. Selections span the late nineteenth century through the 1980s and include fur trapper tales, short stories and serializations, a Victorian dime novel, young adult fiction, and a novelette published specifically for Yellowstone's tourist market. Paperback. 328 pages. 0.9 x 6 x 8.9 inches
The Ranger's Guide to Yellowstone: Insider advice from Ranger Norm
By Phil Frank & Susan Frank
Writer Susan Frank and cartoonist Phil Frank present The Ranger's Guide to Yellowstone, an insider's look at Yellowstone National Park. Ranger Norm a cartoon version of Norm Bishop, a veteran Yellowstone ranger is the reader's own personal tour guide, offering guidance on every aspect of the park, from Old Faithful to the difference between a grizzly and a black bear. To help plan the perfect trip, Susan and Phil have also included a telephone directory, a list of tour operators, and descriptions of classes and educational programs. With Phil Frank's charming illustrations and up-to-date information on accommodations, camping, dining, flora and fauna, and recreational options,The Ranger's Guide to Yellowstoneis the perfect companion for exploring this remarkable destination. Paperback. 230 pages. 0.8 x 5.4 x 8.4 inches
Yellowstone Pioneers The Story of the Hamilton Stores and Yellowstone National Park
By Gwen Petersen
Introduced by Horace Albright. Book includes photos and information. Paperback. 117 pages. 8.4 x 11 inches
Yellowstone: Selected Photographs, 1870-1960
By Carl Schreier
A beautifully composed and illustrated photographic journey through the golden age of photography and the early years of Yellowstone National Park. Paperback. 160 pages
Weaver of Dreams: The Life and Architecture of Robert C. Reamer
By Ruth Quinn
This biography of a long neglected American architect begins with his most famous creation, Old Faithful Inn. Robert C. Reamer, born in Oberlin, Ohio, traveled to Yellowstone at the age of 29 to design and build the Inn. This 140-room hostelry made a significant impact on American architecture, stimulating other architects to experiment with rustic in natural settings, and becoming a "benchmark of National Park architecture." While Reamer excelled in designing rustic-style buildings such as the Inn and the Lake Quinault Lodge, he possessed a talent which made him equally successful in a variety of styles from the Chinese-timber architecture in the Fifth Avenue Theatre in Seattle, to the Art Deco Fox Theater in Spokane, Washington, to the neo-Classical Lake Yellowstone Hotel, to the Prairie-school style of the Executive House at Mammoth Hot Springs. Paperback. 199 pages. 11 x 8.4 x 0.6 inches
Five Old Men of Yellowstone: The Rise of Interpretation in the First National Park
By Stephen Biddulph
Yellowstone has undergone a number of transitions in the 140 years since its national park designation in 1872. The period from the late 1930s through the early 1970s marked one of the most significant as the Park Service shifted focus from public recreation to interpretation and education. Charged with instituting these interpretive interactions were five remarkable ranger naturalists who served as both protectors and educators. Stephen Biddulph tells the story of the five men, his own father amongst them, tasked with inspiring a generation of visitors to the park. Biddulph's masterfully woven narrative--part biography, part historical narrative--offers both fascinating factual details about Yellowstone and charming colloquial story telling. Historians will find that Five Old Men of Yellowstone provides a missing link in the park's extensive literature, while its humor and sentiment make for an accessible book that will be enjoyed by park history buffs and curious visitors alike. Paperback. 384 pages. 9 x 6 x 1 inches
Rough Trip Through Yellowstone
By Emerson Hough and Jay Haynes
An eyewitness account by Emerson Hough and photographs by Jay Haynes, Rough Trip Through Yellowstone: The Epic Winter Expedition of Emerson Hough, F. Jay Haynes and Billy Hofer is edited with an introduction by Scott Herring. This scintillating tale of bravery and hardship details the 200-mile winter trip on skis undertaken by the author and other explorers to document the decline in bison at the turn of the 19th century. With historical characters including notorious poacher Ed Howell and photographer Jay Haynes, this book is the culmination of 14 articles written by Hough that motivated Congress to pass the anti-poaching Lacey Act and helped turn public opinion against a proposed railroad in Yellowstone National Park. 2013. Riverbend Publishing. Soft cover. 245 pages. 5.5 x 8.5 inches
Old Yellowstone Days
By Paul Schullery
More than thirty years after its original publication, Old Yellowstone Days—Paul Schullery's first book—continues to entertain and delight readers. This collection of classic early accounts of the park by such luminaries and literary masters as John Muir, Rudyard Kipling, Owen Wister, Frederic Remington, Theodore Roosevelt, John Burroughs, Charles Dudley Warner, and others revives and celebrates the mood of those pioneering early tourists and naturalists whose writings did so much to shape the public perception of the world's first national park back when the idea of national parks was new. 1986. Paperback. 250 pages. 9 x 6 x .7 inches
Stories of Yellowstone : Adventure Tales from the World's First National Park
By M. Mark Miller
Covering the time period from 1807, when John Colter first discovered the wonders of the Yellowstone Plateau to the 1920s when tourists sped between luxury hotels in their automobiles, these tales of Wonderland come from the letters, journals, and diaries kept by early visitors and later tourists. The earliest stories recount mountain men's awe at geysers hurling boiling water hundreds of feet into the air and their encounters with the native inhabitants of the region. The latest stories reflect the civilizing of the park and reveal the golden age of tourist travel in the area. 2014. Paperback. 240 pages. 8.8 x 6.1 x .5 inches
Yellowstone Mileposts
By Thomas P. Bohannan
As people travel through Yellowstone National Park each day, they often come across buildings or points of interest along the roadway for which there is no publicly-accessible background information. Every single day the park's rangers, tour guides, and concession employees field hundreds of questions about these sites. And many have said, "There ought to be a book..." Well, now there is! It is one of the most comprehensive guides to Yellowstone National Park available to the public. January 14, 2014. Paperback. 544 pages. 9 x 6 x 1.1 inches
Engineering Eden: The True Story of a Violent Death, a Trial, and the Fight over Controlling Nature
By Jordan Fisher Smith
When twenty-five-year-old Harry Walker was killed by a bear in Yellowstone Park in 1972, the civil trial prompted by his death became a proxy for bigger questions about American wilderness management that had been boiling for a century. At immediate issue was whether the Park Service should have done more to keep bears away from humans, but what was revealed as the trial unfolded was just how fruitless our efforts to regulate nature in the parks had always been.
Playing God in Yellowstone: The Destruction of America's First National Park (with an Epilogue by the Author) Paperback – December 17, 1987
By Alston Chase
Chase asserts that Yellowstone is being destroyed by the very people assigned to protect it: the National Park Service. Named as one of "ten books that mattered" in the 1980s.
DVD - Yellowstone: Fabric of a Dream
Yellowstone National Park is one of Americas greatest treasures. Experience its dramatic landscape of geysers, mud pots and hot spring, mountains, lakes and waterfalls, and bison, elk, wolves and grizzly bears in the award-winning film Yellowstone: Fabric of a Dream, previously seen on public television. Explore the park in every season, from the lush summer months to the harsh beauty of winter. 65 minutes.
DVD - Going Wild in Yellowstone
By Brad Bulin
Join wildlife videographer Brad Bulin on a wild journey through the nation's oldest national park. From grizzly bears to red fox, birds to amphibians, enjoy fantastic footage of all types of wildlife. His DVD shows how different animals have succeeded in finding ways to live in this harsh landscape. Bonus feature: "Springtime in Yellowstone" showcases Yellowstone's babies. 2008. 55 minutes.
DVD - Scenic National Parks: Yellowstone
This program takes viewers on a guided tour of Yellowstone, a 3,472 square mile reserve located predominantly into Wyoming, that also extends into portions of Idaho and Montana. The program showcases such activities as geyser-watching, llama-riding and wolf-viewing, and also profiles the geographic wonders and various species of wildlife inhabiting the park. As an added bonus segment, Grand Teton tours the Grand Teton National Park. 98 minutes.
Canyon Village in Yellowstone: The Model for Mission 66
By Lesley M. Gilmore
By 1955, the national parks were facing a crisis of dilapidation from heavy use and lack of funding. The answer was Mission 66. This visionary plan, implemented over the next decade, included installation of new facilities to accommodate the influx of visitors and enhance their experiences. The pilot development in Yellowstone, named Canyon Village, introduced a modern aesthetic to the parks and emphasized the concept of conservation. This man-made environment was purposefully sited away from the Grand Canyon of the Yellowstone, providing a natural buffer. Architect Lesley M. Gilmore presents the complexities of this historic, ambitious model for the movement that marked the continued evolution of the national parks into the destinations we flock to today.
Mattie: A Woman's Journey West
By Nan Weber
After discovering Mattie's fenced grave in Yellowstone National Park, author Nan Weber followed her own curiosities through four years of research to trace the steps of this mystery woman's spirited life. The result is the inspiring story of a strong woman trying to better her life during difficult times.
Wrecked in Yellowstone: Greed, Obsession and the Untold Story of Yellowstone's Most Infamous Shipwreck
By Mike Stark
On an island in the middle of Yellowstone Lake in Yellowstone National Park, there's a wrecked ship—the last dashed hopes of a man determined to find his way in the early profiteering days of the nation's first national park.
Ambitious, blustery, and paranoid, E. C. Waters arrived in Yellowstone in 1887 and stayed for more than 20 years. He became the most hated businessman in Yellowstone, frustrating park superintendents, irritating customers, and restlessly trying to build a small empire that could outlast his enemies.
Waters pinned his ultimate hopes on a grand steamboat that was assembled piece by piece on the shores of Yellowstone Lake. The boat, like Waters himself, was soon destined to founder.
Thoroughly researched and superbly written by journalist Mike Stark, Wrecked in Yellowstone is the first portrait of one of Yellowstone's most infamous characters and his place in the tumultuous early years of the park. It is the story of folly, obsession, ruthless competition, and a man overcome by the storms of his own creation.
Seven Montanas: A Journey in Search of the Soul of the Treasure State
By Ednor Therriault
The vast space of the American West that has been designated as the state of Montana is such a diverse and varied landscape that it's been said it could easily be sliced up into several smaller states. And with its smorgasbord of industry, history, culture and the various worldviews held by its residents, getting a bead on Montana's personality is a challenge. Through interviews, photos, history and personal observations, Therriault profiles each region and in the process gives a more complete view of the state as a whole. Along the way the reader will learn why some people choose to live where they do, how they view the rest of the state, and what some of the factors are that give each region its singularity
Montana Curiosities: Quirky Characters, Roadside Oddities & Offbeat Fun
By Ednor Therriault
Montana Curiosities brings to the reader with humor and affection—and a healthy dose of attitude—the oddest, quirkiest, and most outlandish places, personalities, events, and phenomena found within the state's borders and in the chronicles of its history. A fun, accessible read, Montana Curiosities is a who's who of unusual and unsung heroes. This compendium of the state's quirks and characters will amuse Montana's residents and visitors alike
Montana Off the Beaten Path: Discover Your Fun
By Ednor Therriault
Montana Off the Beaten Path features the things travelers and locals want to see and experience––if only they knew about them. From the best in local dining to quirky cultural tidbits to hidden attractions, unique finds, and unusual locales, Montana Off the Beaten Path takes the reader down the road less traveled and reveals a side of Montana that other guidebooks just don't offer.
BUCK LAKE, YELLOWSTONE NATIONAL PARK
PHOTOGRAPH © RANGERPETE.ORG
More great books are available through the park gift shops, the Yellowstone Forever Association resource centers, or their on-line shop. Or you can ask Ranger Pete... always am glad to help.