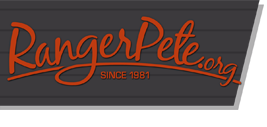 More Books from the Ranger PeteTM Library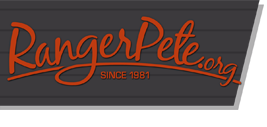 More Books from the Ranger PeteTM Library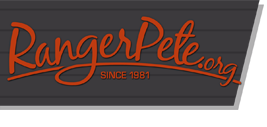 More Books from the Ranger PeteTM Library
The items listed are from Ranger Pete's Library and represent only what he has read... There are many more to be added! Ranger Pete's favorites are indicated with RED titles.
The Discovery of Yellowstone Park
By Nathaniel Pitt Langford
1905. Journal of the Washburn Expedition to the Yellowstone and Firehole Rivers in the Year 1870. Public domain - can view/download online by doing a title search.
Images of America: Yellowstone National Park
By Lee H. Whittlesey and Elizabeth A. Watry
Treat yourself to a photographic history tour of Yellowstone. Historians Whittlesey and Watry have chosen images that show the story, and extracted details from park archives and private collections to tell the story. Together, they have produced an arm-chair old-time tour every fan of Yellowstone will enjoy. 2008. Softcover. 128 pages. Arcadia Publishing. 6" x 9"
Plain to Fancy: The Story of the Lake Hotel
By Barbara Dittl, Joanne Mallmann
The lively history of Yellowstone's Lake Hotel. 32 pages.
Adventures In Yellowstone: Early Travelers Tell Their Tales
By M. Mark Miller
This compilation includes a dozen narratives-journal entries, letters, and diarieswith individual introductions, as well as historic photographs, postcards, and woodcuts. Read stories like Osborne Russell's early accounts of the daily lives of mountain men in the 1840's or a story by Eleanor Corthell, who in 1903 took her seven children on a two-month, 1 ,200-mile tour of the park by wagon. 2009. 264 pages. Softcover. 6" x 9"
The Yellowstone National Park
By John Muir
This description of Yellowstone's early days was originally written by John Muir in 1898. Republished in "The Atlantic Monthly" and in Muir's book, "Our National Parks," it is one of his most literary pieces of nature writing. This books pairs park illustrations from the late 1800's with Muir's writing. 1999. Softcover. 64 pages. 5.5" x 8.5"
A Ranger's Guide to Yellowstone Day Hikes
By Roger Anderson and Carol Shively Anderson
Experience your own personal ranger-guided hikes through Yellowstone park with this colorful pocket guide tucked in your day pack. Color photographs, maps, and naturalist stories highlight the natural history, flora, fauna, and geology of miles of popular trails described in detail by two Yellowstone park rangers. You'll want to hike every trail! Handy chart in front rates hikes "easy" to "strenuous." 2000. 152 pages. 6 x 9"
Yellowstone: Like No Other Place on Earth
By David Peterson
Published in 2002, this handsome volume contains historical excerpts from The Discovery of Yellowstone: The Washburn Expedition accompanied by the beautiful images of contemporary landscape photographer David Peterson. 80 pages.
Mark of the Grizzly
By McMillion
This book collects the true stories of 18 attacks by grizzlies between 1977 and 1997. Each mauling and its aftermath have been thoroughly examined by the author. The people in these stories are from all walks of life and tell their gripping stories of the attacks recounted in this book. You'll find it hard to put down! 249 pages.
The Wilderness Warrior: Theodore Roosevelt and the Crusade for America
By Douglas Brinkley
In this ground breaking epic biography, Douglas Brinkley draws on never-beforepublished materials to examine the life and achievements of our "naturalist president." By setting aside more than 230 million acres of wild America for posterity between 1901 and 1909, Theodore Roosevelt made conservation a universal endeavor. This crusade for the American wilderness was perhaps the greatest U.S. presidential initiative between the Civil War and World War I. Roosevelt's most important legacies led to the creation of the U.S. Fish and Wildlife Service and passage of the Antiquities Act in 1906. His executive orders saved such treasures as Devils Tower, the Grand Canyon, and the Petrified Forest. 906 pages.
Myth and History in the Creation of Yellowstone National Park
By Paul Schullery and Lee Whittlesey
Paul Schullery and Lee Whittlesey, both longtime students of Yellowstone's complex history, present the first full account of how the fairy-tale origins of the park found universal public acceptance, and of the long process by which the myth was reconsidered and replaced with a more realistic and ultimately more satisfying story.
Selling Yellowstone Capitalism and the Construction of Nature
By Mark Daniel Barringer
For over a century, Yellowstone National Park has been a monument to wildness in America. But long before flames swept through Yellowstone in 1988, that wildness had come under fire from encroachments that were making the park one of our nation's most commodified pieces of real estate.
Haynes Guide Yellowstone National Park Published
By Haynes Studios
Bozeman, Mt. 1927 edition. 192 pages plus a foldout map. Guide is 7.5" tall and 5" wide. Includes photos and illustrations. Historical and collectible item.
Pics & Quotes of Yellowstone
By Bill and Doris Whithorn
When the Whithorns prepared this photo history overview of Yellowstone Park, they intentionally used older photographs, including those by William Henry Jackson and Frank Jay Haynes. Images from old post cards are also reproduced here. Frequently in the captions, the Whithorns have used quotations from diaries of early visitors, including both celebrities and unknowns. First issued in 1972, this book was republished in 2009 by the Wan-I-Gan Press of Livingston, Montana. Paperback, stapled, size 6" x 9", 50 pages, 51 photos, indexed.
National Parks and the Woman's Voice: A History
By Polly Welts Kaufman
In the late 1800s women explorers visited Yosemite, Yellowstone, and other areas which became the national parks of the west, climbed mountains there, studied natural history, tried to interpret Indian culture, and helped create facilities for other visitors to those parks. Often riding sidesaddle and wearing long skirts, they participated with men in park pioneering. Beginning with a discussion of the early travelers and explorers, Kaufman's work is a comprehensive study of the role of women in relation to national parks from the mid-nineteenth century to the mid-1990s. 312 pages.
Preserving Yellowstone's Natural Conditions: Science and the Perception of Nature
By James A. Pritchard
American ecologists seeking to influence the founders of the National Park Service had hoped that protection of the parks would create preserves where "natural conditions" could exist in an idealized presettlement state. These hopes, however, produced a bitter irony. In order to secure a naturally functioning park, officials had to provide intensive management to preserve "nature at work." For the better part of the twentieth century, the forms this management has taken have polarized public opinion. 370 pages.
A Ride to the Infernal Regions: Yellowstone's First Tourists
By Calvin C. Clawson
A little-known and previously unavailable account of the first tourist party to Yellowstone National Park. In 1871, inspired by sketchy reports of Yellowstone's wonders, six Montanans made a horseback trip to see the park's geysers, lakes, and canyons -- and even encountered the famous Hayden Expedition. Lively and well-written. Includes a detailed introduction and narrative footnotes. 136 pages.
Yellowstone Denied: the Life of Gustavus Cheyney Doane
By Kim Allen Scott
How lasting fame eluded one of Yellowstone's earliest explorers Frontier soldier and explorer extraordinaire, Gustavus Cheyney Doane was no stranger to historical events. Between 1863 and 1892, he fought in the Civil War, participated in every major Indian battle in Montana Territory, and led the first scientific reconnaissance into the Yellowstone country--his report on that expedition even contributed to the establishment of Yellowstone National Park. Doane was always close to being at the right place at the right time to secure lasting fame, yet that fame always eluded him, even after his death. Kim Allen Scott rescues Doane from obscurity to tell the tale of an educated and inventive man who strove in vain for recognition throughout his life. 305 pages.
The National Parks: America's Best Idea: An Illustrated History
By Dayton Duncan and Ken Burns
The companion volume to the twelve-hour PBS series from the acclaimed filmmaker behind The Civil War, Baseball,and The War America's national parks spring from an idea as radical as the Declaration of Independence: that the nation's most magnificent and sacred places should be preserved, not for royalty or the rich, but for everyone. In this evocative and lavishly illustrated narrative, Ken Burns and Dayton Duncan delve into the history of the park idea, from the first sighting by white men in 1851 of the valley that would become Yosemite and the creation of the world's first national park at Yellowstone in 1872, through the most recentadditions to a system that now encompasses nearly four hundred sites and 84 million acres. 403 pages.
Great Lodges of the National Parks
By Christine Barnes, Fred Pfulghoft & David Morris
This beautiful gift book will transport you to the majestic lodges of our national parks to relive the glory of past vacations or plan adventures anew. This book and the PBS television series of the same title take armchair travelers into these architectural wonders and explore the surrounding natural beauty of our national parks. 191 pages.
Great Lodges of the National Parks, Volume II
By Christine Barnes, Fred Pfulghoft & David Morris
Christine Barnes is the author of a series of books showcasing the great lodges found within the public lands of the United States and Canada. Volume Two expand on the story of these buildings and parks. 176 pages.
Yellowstone in Photographs
By George Wuerthner
From smoking thermal pools and Old Faithful to the placid herds of elk and bison grazing in the valleys, Yellowstone is one of the most beloved National Parks in the United States. As part of a new photographic travel series, this gorgeous photographic tour can be a wonderful souvenir of a special vacation or a beautiful keepsake for nature lovers.
Exploring Yellowstone
By Ruth Kirk
Moon Yellowstone & Grand Teton
By Don Pitcher
Moon Yellowstone and Grand Teton is packed with maps and photographs, and places a special emphasis on leading destinations such as Old Faithful Geyser, Lower Falls of the Yellowstone River, Mammoth Hot Springs, the Snake River, and Jackson Hole. Complete with details on watching wildlife, and including information on activities such as camping, hiking, and horseback riding, Moon Yellowstone and Grand Teton gives travelers the tools they need to create a more personal and memorable experience.
Lonely Planet Yellowstone & Grand Teton National Parks
By Bradley Mayhew
Lonely Planet's national park guides feature sustainable content and green travel ideas, as well as Hiking & Camping charts to help travelers choose between routes and campsites. This edition contains more than forty hiking routes and key cycling and driving routes, as well as color itineraries to help tailor the right tour.
History of Grand Teton National Park: People in the Landscape
By Charles Craighead
"Official guidebook of Grand Teton National Park."
Women in Wonderland: Lives, Legends, and Legacies in Yellowstone National Park
By Elizabeth A. Watry
This book profiles undaunted women who made their mark on Yellowstone National Park. The women profiled in the book range from Marguerite "Peg" Arnold, an intrepid adventurer who drove a Harley Davidson motorcycle from Philadelphia to Yellowstone in 1924 and was the first woman to become a permanent ranger in the National Park Service, to Dr. Mary Meagher, an expert on Yellowstone's bison and overal park ecology, who blazed a path for women scientists in the park service. Among the early pioneers in the tourist trade were sisters Anna Trischman Pryor and Belle Trischman with their "Devil's Kitchenette", and Ida "Mom" Eagle of the Eagle's Store in West Yellowstone. 2012. Softcover. 296 pages. 5.5" x 8.5"
Yellowstone National Park (Postcard History)
By Jill Bullock
Yellowstone National Park is a visionary gift that was bestowed upon the world on March 1, 1872. On that day, President Ulysses S. Grant signed the bill that created the world's first national park. Filled with natural wonders and inspiring scenery, it is home to some of America's rarest and wildest species. Its natural appeal is enhanced by the thrilling display of wildlife within the park boundaries. More than three million visitors a year pass through the park's portals and enter "Wonderland". 2011. Softcover. 128 pages. 6" x 9"
Yellowstone: A Wilderness Besieged
By Richard A. Bartlett
"A detailed, well documented history of the establishment (in 1872), growth, and maturation of Yellowstone National Park . . . America's (and the world's) first national park." 1988 - softcover. 437 pages. 9" x 6" x 1.2"
Yellowstone Memories: 30 Years of Stories and Photos
By Michael H. Francis
The cover bison looks way hip with a wild "hairdo" and that is just one of more than 100 unusual, dramatic, and beautiful images by professional nature photographer, Michael Francis. This one-of-a-kind collection of photos and stories makes this a unique memory book for anyone who loves the park and great photography. 2005 - Hardcover. 96 pages. 10.9" x 9" x 0.6"
Yellowstone Command: Colonel Nelson A. Miles and the Great Sioux War, 1876-1877
By Jerome A. Greene
Shortly after Custer's defeat in the Battle of the Little Bighorn, Colonel Nelson A. Miles and his Fifth Infantry launched several significant campaigns to destroy the Lakota–Northern Cheyenne coalition in the Yellowstone River basin. Miles's expeditions involved relentless pursuit and attack throughout the winter months, culminating in the Lame Deer Fight of May 1877, the last major engagement of the Great Sioux War. Yellowstone Command is the first detailed account of the harrowing 1876–1877 campaigns. Drawing from Indian testimonies and many previously untapped sources, Jerome A. Greene reconstructs the ambitious battles of Colonel Miles and his foot soldiers. This paperback edition of Yellowstone Command features a new preface by the author. 2006 - Softcover. 352 pages. 9" x 5.9" x 0.7"
Incredible Vision: The Wildlands of Greater Yellowstone
By Alice & Peter Bengeyfield
Author (Peter)and photographer (Alice) Pete Bengeyfield shares his deep understanding of the forces that have shaped the Greater Yellowstone region in Montana, Wyoming, and Idaho. He describes what this extraordinary environment should be, and could be, for its wildlife, wildlands, and people. Highlighted by 93 exquisite color photos, it is a magnificent journey through a magnificent land. 2003 - Softcover. 144 pages. 9.6" x 8.5" x 0.5"
Yellowstone Branch of the Union Pacific: Route of the Yellowstone Special
By Thornton Waite
Thorough coverage of the Yellowstone Branch, with some info on Teton Valley Branch. 1996 - Softcover. 102 pages. 10.5" x 8.2" x 0.3"
The Northern Pacific Railroad & Yellowstone National Park
By Phyllis Smith and William Hoy
The story of how the Northern Pacific Railroad influenced developments in the early days of Yellowstone National Park. Contains information about early visitors to the Park area, railroad men scouting out the landscape, the first businesses inside the Park boundaries, and problems that the first Superintendents of the Park encountered. Hotels were built to house the first visitors to Park. The railroad paid the salaries of Frank J. Haynes, the first Park photographer, Robert Reamer, the gifted designer of depots and hotels, artist Thomas Moran, whose artwork thrilled easterners and Europeans alike. Also contains numerous photos and copies of the original drawings from the Northern Pacific Railroad Company. 2009. Softcover. 82 pages.
The Geysers of Yellowstone, Fourth Edition
By T. Scott Bryan
This revised popular field guide describes in detail each of the more than 500 geysers in Yellowstone National Park. With updated information and a new foreword by park archivist Lee Whittlesey, Geysers of Yellowstone is both a reference work and a fine introduction to the nature of geyser activity for the newcomer to geothermal phenomena. A glossary of key terms is provided, along with a comprehensive appendix that discusses other geyser areas of the world. Detailed maps accompany each geyser basin described, and tables are provided for easy reference. 2008. Softcover. 480 pages.
Yellowstone
By Fred Hirschmann
Seventy-four color photographs. Hirschmann worked in Yellowstone National Park as a ranger/naturalist. "Insider's view of Yellowstone's natural wonders.".1990. Softcover. 87 pages. 7.8 x 5.1 x 1 inches
Roadside History of Yellowstone Park (Roadside History Series)
By Winfred Blevins
Learn about the Indians who lived or traveled through Yellowstone, as well as the mountain men who were the first white people to discover Yellowstone, the government "explorers" who mapped it and fought to make it a park, the poachers and other exploiters who threatened the park, and those who protected it. Meet the travelers, foreign and domestic, high-born and low-born, who sojourned here off the travails, thrills, dramas, and serene satisfactions of the people over the park's history. Easy and enjoyable to read, this guide allows you to begin at any of the five park entrances and follow the park's story as you follow the road. 1989. Softcover. 106 pages. 6.01 (w) x 8.99 (h)
Old Yellowstone Views
By John F. Barber
As its title suggests, this book is filled with black-and-white photographs of Yellowstone from days of the early explorers up to around 1936. Photos on all pages--many full page, with descriptive text and quotes throughout. Includes photos of Fort Yellowstone, Wylie camps, park hotels, early automobiles, tourists, rangers, and more. 1990. Softcover. 95 pages. 8" (w) x 10" (h)
Secrets in Yellowstone & Grand Teton National Parks
By Lorraine Salem Tufts
This is the first in the publisher's series, followed by "Secrets in Grand Canyon, Zion & Bryce Canyon National Parks." It is primarily a book of photographs of geothermal formations & fauna & flora of these two national parks. There is a geological section & historical section on each park. Each image is accompanied by the photographer's name, along wit the technical details - film, lens, speed, etc. - which will be of interest to camera fans. The author is a professional wildlife photographer & most of the photos are hers. 1988. Softcover. 82 pages. 11" (w) x 11" (h)
Dudes And Savages: The Resonance of Yellowstone
By Richard W. Bevis
In a book that is part memoir, part documentary and part fictional narrative, Richard Bevis follows an assortment of teenage "savages" as they descend on Yellowstone Park in 1957, looking for action (and each other) while working at a variety of jobs. Blending comedy and seriousness, *Dudes and Savages: The Resonance of Yellowstone* moves from geology to romance, from history to salesmanship, from mountain climbing to practical jokes on the hapless "dudes." The book traces the well-intentioned but blundering Mason Dixon from his setting off to his return home, and in its final chapters considers the impact that Yellowstone had on him and some other characters over the years. Paperback. 240 pages. 0.5 x 6 x 9 inches
Yellowstone Summer
By Hal Newsom
YELLOWSTONE SUMMER is a true story as best can be remembered by the author, Hal Newsom. It took place in 1950. He has compiled many of the amusing incidents that occurred in the in the Park while he worked at the soda fountain at Old Faithful. If you have ever spent any time around a summer camp or park you will be entertained on page after page. If you haven't, you are in for a treat. Some have called it a wonderful escape into a world of college kids who are responsible workers but have a fling of freedom in their spare time. Paperback. 140 pages. 0.3 x 6 x 9 inches
BUCK LAKE, YELLOWSTONE NATIONAL PARK
PHOTOGRAPH © RANGERPETE.ORG
More great books are available through the park gift shops, the Yellowstone Forever Association resource centers, or their on-line shop. Or you can ask Ranger Pete... always am glad to help.